Junior School Father's Day Gifts Stall THIS FRIDAY + Call For Volunteers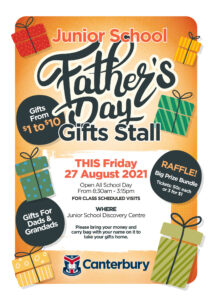 Dear Junior School Parents & Carers,
Our annual Father's Day Gifts Stall is happening THIS Friday 27 August 2021.
All the information is in this article image.
Please remember to give your children some money and a carry bag with their name on it to take their gifts home on Friday.
All gifts range from $1 – $10 with a raffle too on the day with tickets 50c each or 3 for $1.
We are also calling for volunteers to assist on the day from 8:00am – 2:30pm.
If you're available to help for a half-day or full-day, please contact Hayley Rossner via email at 
Your support is much appreciated!