Dirrum Festival Recording – Nathaniel Harris & Briana Dinsdale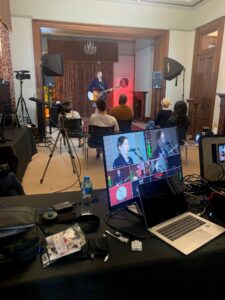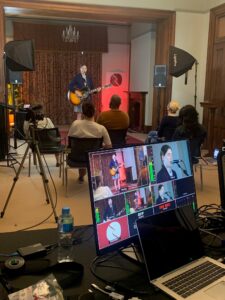 Today, Mr Chris Nield – our Director of Student Development, was at the Canterbury recording for this year's Dirrum Festival.
Dirrum Dirrum is the sound of red in the Ngunnawal language: the colour of blood and earth.
Dirrum Dirrum is a way of seeing others and ourselves bound in a respectful relationship, standing in a wide circle of compassionate engagement.
It acknowledges a common ground and is an active choice for life beyond the smallness of self-interest.
The Dirrum Festival is a social justice festival run primarily by students.
The event reflects a culture of engagement rather than a weekend or 'island' of isolated activity.
Out of this engagement and history of service to the 'common good', young leaders speak alongside inspirational speakers from around the world.
It's been hosted down in Canberra for the last 10 years and was starting in Brisbane this year… Until the COVID restrictions hit. Curse you again 'rona'!
Therefore, it's being recorded instead and will be available later this year.
Canterbury had two students performing – Nathaniel Harris and Briana Dinsdale.
Nice job team!