Chalk Graffiti – Math Logic Puzzle: Outdoors Brain Buster!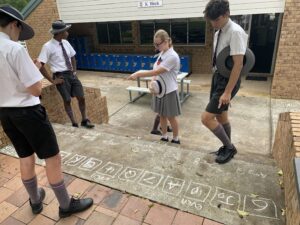 MYSTERY SOLVED!
Remember those mysterious chalk 'graffiti' pictures on our Facebook Page and Instagram Feed recently? 
Well, our Canterbury Teacher Mrs Yvette O'Keefe solved the riddle this morning, and we even got to video her Year 10 Prep Methods Math Class taking on the very same 'chalk challenge' today.
It's basically a logic / math / rules / process of elimination / Sudoku-like brain teaser from a puzzle challenges book – but with playing cards and getting them all in the correct order.
The actual question and the book it's sourced from is in our full Facebook Photo Gallery HERE if you wish to tackle this teaser at home over the weekend.
In the interim, here are some videos from today's Math Class contenders – the solvers AND non-solvers.
Maybe you can find some part or full solutions amongst our Facebook photo gallery…
Good luck!