Canterbury Uniform Fittings: Online Bookings OPEN NOW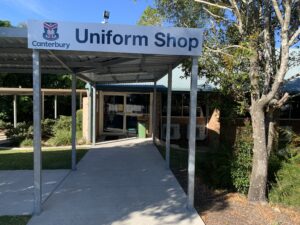 Appointments are now available for our Uniform Shop visits across the December 2021 AND January 2022 holidays by clicking the following uniform fittings weblink.
Under Select Service: Please select your preferred service sorted by week.
Under Select Time: Please click to the relevant month then click on your preferred day.
Once you click on this day, the available timeslots will appear for your actual booking.
DECEMBER 2021
Monday 6 – Friday 10 December – For ELC Uniform Fittings: 30 Minutes
JANUARY 2022
Week 1: Monday 3 – Friday 7 January: 30 Minutes
Week 2: Monday 10 – Friday 14 January: 30 Minutes
Week 3: Monday 17 – Friday 21 January: 15 Minutes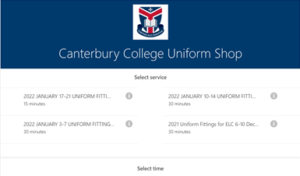 Please note that ALL visits during these busy times are by appointment ONLY.
Thank you!
Kind regards
Sandra Allen
Uniform Shop Manager