Canterbury goes Solar
In the first substantial sustainability project to commence as part of the Strategic Direction 2020-2023, Canterbury earlier this year installed 366 kilowatt (kW) solar systems on multiple buildings across the campus.
Aiming for optimum clean energy production and bill savings, the College partnered with Planet Ark Power's expert engineers to design and install solar panels across multiple roofs and electricity meters. Factors such as infrastructure, energy usage and current grid tariffs were considered to tailor an optimum solution for the College's needs.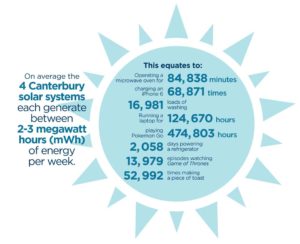 We will aim to reduce our reliance on grid supplied energy through the integration of clean renewable energy that is also, as Dan Walker explains, providing obvious environmental, educational and financial benefits.
We spend such a lot of time engendering values of social responsibility in our students, that to leave the thousands of square metres of rooftops unadorned with solar panels, would seem a lost opportunity." Mr Walker said.
Whilst we know that our solar program has very practical economic and environmental benefits, our students knowing that we 'walk the talk' around sustainability is also fundamentally important.
The rooftop solar system is installed on A Block (Junior School), K Block (Secondary School Science), M Block (Arts) and the Trade Training Centre, and is expected to generate 525,000 kilowatt hours (kWh) per year.
This translates annually to:
 

offsetting 420 tonnes of carbon dioxide

 

taking 4071 cars off the road for a year

 

planting 1397 trees.

The College will export excess solar energy back to the power grid, resulting in savings of around 40% on energy bills. By using the solar energy, we will continue to reduce our carbon footprint over the system's life of 25 years.
As the campus expands in the future, and buildings such as the new pool and tennis complex significantly increase the overall energy consumption, there is an opportunity to expand on the current systems.