UPDATED: Welcome To The 2022 Junior School Year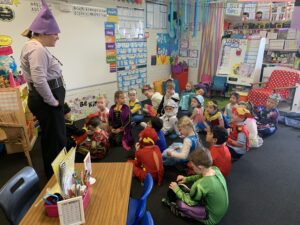 Dear Parents and Carers,
Welcome back, or welcome for the first time, to Canterbury College and the 2022 school year!
I hope you all enjoyed a wonderful festive break and could spend some valuable time with your family.
COVID-19 Campus Protocols
Here at Canterbury, our students, their families, our staff and the wider community's health and safety is our highest priority.
Therefore, we have been very thorough with ensuring every staff member here is fully certified vaccinated against COVID-19.
The College implements a very clear COVID-Safe plan to best ensure the safety of our whole school community while here on campus.
Please be mindful that adults should limit gathering in groups at drop-off and pick-up time – in the carparks, outside classrooms, and out the front of the Junior School Administration office.
It is particularly important that parents do not congregate outside classrooms while learning is taking place, as this is also a distraction for our students.
With this in mind, we kindly ask that between the normal school hours of 8:30am – 3:15pm, that parents avoid entering the College grounds.
Maintaining good hand hygiene and staying home when sick are also crucial elements to ensuring the safety of our community.
We are also asking families to maintain the government's social distancing advice to stay 1.5m away from other adults, and to keep wearing your face masks in public at our campus.
We will continue to keep families informed of any changes to regulations that may impact our College over the coming weeks.
Junior School Staffing
I am delighted to share with parents and carers that joining the Junior School leadership team for 2022 as Assistant Head of Junior School (Wellbeing) is Mrs Brittany Sinclair.
Brittany is a wonderful and experienced teacher across many areas of our Junior School, including the Early Learning Centre, Learning Support and the Stephanie Alexander Kitchen Garden Program.
Brittany is thrilled to be able to have a bigger positive influence on the wellbeing of our young students.
In the Assistant Head of Junior School (Learning) role will be Mr Jonathon Wheatley.
Jonathon is also a highly experienced teacher who is well-known in the Junior School, having taught at Canterbury for several years, and he brings a wealth of knowledge about curriculum, teaching and learning.
We also welcome the following staff to the Junior School for 2022:
Leigh Mayes – Acting Director of the Early Learning Centre
Leanne Lyle – Head of Learning Support
Mayang Hunter – Early Childhood Educator
Olivia Di Pasquale – Early Childhood Educator
Jigindri Singh – Early Childhood Educator
Leanne McGregor – Early Learning Centre Teacher
Jenna Pokoj – Early Learning Centre Teacher
Roohee Ali – Prep Teacher
Gareth Loveday – Year 1 Teacher
Candice Hope – Year 1 Teacher
Robert Ashford – Year 3 Teacher
Benjamin Woolacott – Year 5 Teacher
Melissa Daly – Learning Support Teacher
Natalie Birt – Learning Support Teacher
Sharna Te Hau – Years 4-9 Science Teacher
Daniel Clark – Years 4-9 Spanish Teacher
Sara Rosello Pedros – Prep-Year 9 Spanish Teacher
Kasie Calvert – College Paramedic
Campus Building Works
The campus has been a hive of activity over the Summer break with grounds and facilities building works.
On the oval a new playground has been constructed for use by the upper year levels of the Junior School.
We are looking forward to this playground promoting our students to be even more physically active, to support their social and physical development, and to inspire their imaginations through innovative, age-appropriate and safe play equipment.
Images are available on our Canterbury College Facebook and Instagram accounts.
The next time you enter the Junior School Administration building, I am sure you will notice its new look.
It has been renovated to provide a more welcoming and practical space for our students, parents and staff to access.
Mrs Mieken Augustin continues in her role as Junior School Administrator and is available from 8:00am – 4:00pm weekdays during Term-time.
School Uniforms
Due to COVID's production and shipping constraints beyond our control, there are some uniform items not available in our Uniform Shop or the affiliated The School Locker Room Superstore over at Loganholme.
We are hoping to have another shipment arrive shortly, after last week's delivery, however this cannot be guaranteed.
We ask that in the meantime, students substitute similar items.
Staff are cognisant of this delay and will certainly not penalise any student for wearing incorrect items.
We will communicate with families when stock arrives via MyCC, our website's News section, and on Facebook and Instagram – where current stock updates already exist.
However, we do expect that students will meet our very conservative and long-standing expectations regarding haircuts and hair colour, jewellery and nail polish when they return to campus on Monday 7 February 2022.
There is no specified colour raincoat that students are to wear over College uniforms, so any colour is acceptable.
Student watches must not have cellular connected capabilities, and if they do, they must be handed in at the Junior School Administration office each morning and collected each afternoon, like any mobile phone device.
The Uniform Policy is available on the College website and images have been provided on MyCC to support families.
There is also the Second-Hand Uniforms Buy Sell Swap Meet happening again THIS Saturday morning 5 February in the Canterbury Trade Training Centre Restaurant.
First Day Of School
A reminder that the first day of school back on campus is Monday 7 February 2022 and students should make their way to their new classrooms between 8:00am – 8:25am.
On the first day, students should wear their formal school uniform, and staff will be very understanding of any uniform items that are not yet available.
New Canterbury Families
We warmly welcome all new families to Canterbury, and kindly ask that new students – who did not attend any supervised learning sessions – make their way to our Discovery Centre Junior Library.
There you will be greeted by our staff and Year 6 student leaders, who will then escort you to your new classroom.
Stationery Drop-Off Day
An opportunity is available to drop stationery to your child's classroom between 1:30pm – 3:30pm on Friday 4 February 2022.
Please bring all the items listed on your Stationery List with you, and place it on your child's allocated desk in their classroom.
Please ensure that all items are individually named.
Teachers will be in the classrooms working during this time.
If you have not met your child's class teacher for 2022, this is the perfect opportunity to say hi and put a friendly face to the name.
This day is optional, as stationery can also be dropped to classrooms on that following Monday first day of school.
Camp Australia – Coffee Van Monday 'Meet & Greet': COVID CANCELLED SORRY!
DROP-OFF AND PICK-UP ARRANGEMENTS
We know it is important for parents and carers to help settle their children into the new school year, as this helps set a positive tone for the year ahead.
Therefore, we understand that parents may need to come on campus in the morning to assist children to get settled, and to build connections with our community.
Morning Drop-Offs: Prep – Year 2
Students in Prep – Year 2 will be supervised in the meadow between 8:00am – 8:30am.
During this time, parents are very welcome to walk their children on campus and assist with their bags.
While classrooms will not be open during this time, as teachers will be busy preparing for the day ahead, you are welcome to email your child's teacher at any time to arrange a meeting, if there is something you would like to discuss.
Duty teachers will also be on hand if there are any queries you may have.
The play equipment in the meadow will be completely accessible to students in the morning.
Morning Drop-Offs: Years 3–6
Years 3–6 students will be supervised on the oval between 8:00am – 8:30am.
During this time, parents are very welcome to walk their children on campus and assist them with their lockers, and then walk them down to the oval, where they will be supervised by our staff.
If you need to speak to a teacher, please email them to organise a suitable time.
Afternoon Pick-Ups: Prep – Year 6
Prep – Year 2 students, and any older siblings attending the school, can be collected after 3:15pm from the Easterly Street Carpark Pick-Up Zone, where they will be supervised until 3:45pm.
Years 3–6 students, who do not have younger siblings attending the school, can be collected after 3:15pm from the High Road Carpark Pick-Up Zone, where they will be supervised until 3:45pm.
Years 5–6 students, who do not have siblings attending the school, we now have a NEW pick-up location, which will help reduce the huge number of cars in the Easterly Street Carpark.
This new pick-up area is located a short walk across the oval from our Junior School, and is accessed via Entrance E on Old Logan Village Road, and along the internal road towards our Aquatic and Tennis Centre.
Students will not be permitted to be picked up from their classroom, so we ask families to wait for their children at these designated pick-up zones.
If you have children attending across different year levels, please liaise with their classroom teachers to work out the best pick-up zone for your family, and we will accommodate for that.
I would like to reiterate that students will be supervised until 3:45pm, and if they are not collected by this time, they will be walked up to the Camp Australia Outside School Hours Care service.
Therefore, it is important that families have completed the FREE registration for Camp Australia, to ensure they can supervise your child.
NEW Care Central!
Our new Care Central building (formerly the Secondary Administration office) supports a wide range of student needs, including our sick bay and first aid, student counselling services and college chaplaincy services.
Parents are encouraged to make direct contact with the School Paramedic Kasie Calvert for student medication requirements and health management plans, who will then work closely with the Junior School staff.
In the event a student requires collection due to ill health or injury, parents and carers can collect their son or daughter from Care Central via the Easterly Street gate.
Upcoming Events
First Day Of School: 8:00am For 8:30am Start, Monday 7 February – Canterbury College.
Years 4–6 Puberty Education Evening: 6:00pm, Wednesday 9 February – Discovery Centre Junior Library.
Parent Information Evening: COVID POSTPONED.
Junior TAS Sport (Hockey & Cricket): Round 1, Saturday Morning 12 February.
Junior TAS Sport Pre-Season Training: Wednesday 2 February (2:30pm – 3:45pm) and Friday 4 February (8:00am – 9:00am).
Junior School Running Club: Tuesday 1 February, Thursday 3 February and Friday 4 February (7:00am – 8:00am).
Finally, if you ever have any concerns or topics that you would like to discuss with me, please always feel free to contact me.
Mrs Katrina Flower has commenced as my Personal Assistant this year and is available from 8:00am – 4:00pm weekdays during Term-time in the Junior School Administration office.
I am very much looking forward to building a relationship with you all and I am very excited for the great year ahead!
Yours faithfully
Mrs Michelle Leftwich
Head of Junior School
Canterbury College