Canterbury College's Official Aboriginal Artwork | Bullang Mobo: A Strong Tomorrow
We are thrilled to publicly release Canterbury's new official Aboriginal artwork Bullang Mobo – created by the very talented Mununjali Wangerriburra artist Waylene Currie from WRLC Arts.
Bullang Mobo means 'A Strong Tomorrow' which beautifully captures Canterbury's Motto: Fortior Quo Paratior – The Better Prepared, The Stronger; plus our College Vision: To inspire and nurture confident, optimistic and resilient young people who are 'World Ready'.
It also reflects the strength in unity of Canterbury College's huge extended family of past and present students, parents, carers, staff, leaders and the wider Logan community since 1987.
This vibrant artwork showcases a powerful connection between our history, people and purpose, and the spirituality of our campus land.
Canterbury is situated on Mununjali and Gugingin Country, home to two of the nine clans of the Yugambeh people, who nurtured the land around the Logan, Albert, Coomera and Nerang Rivers for a millennia.
Looking closely, this artwork contains five major elements, with each part holding a special significance:
1. The Boomerangs – The boomerangs located in opposite corners represent the Junior School and Secondary School, as well as reflecting the basic boomerang shape of our entire campus building network, stretched like arms along either side of the playing fields. (Please see our campus map below).
They symbolise a solid foundation of student support, with both boomerangs wrapped caringly around the school campus artwork located inside.
The footsteps coming together within each boomerang show our many children from all year levels uniting as one Canterbury group, and forging new pathways for future generations of students to follow.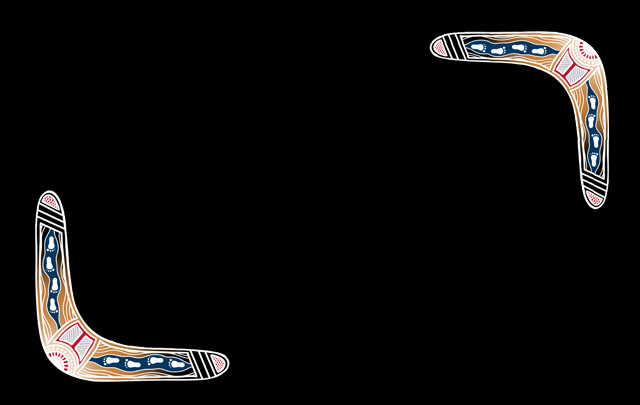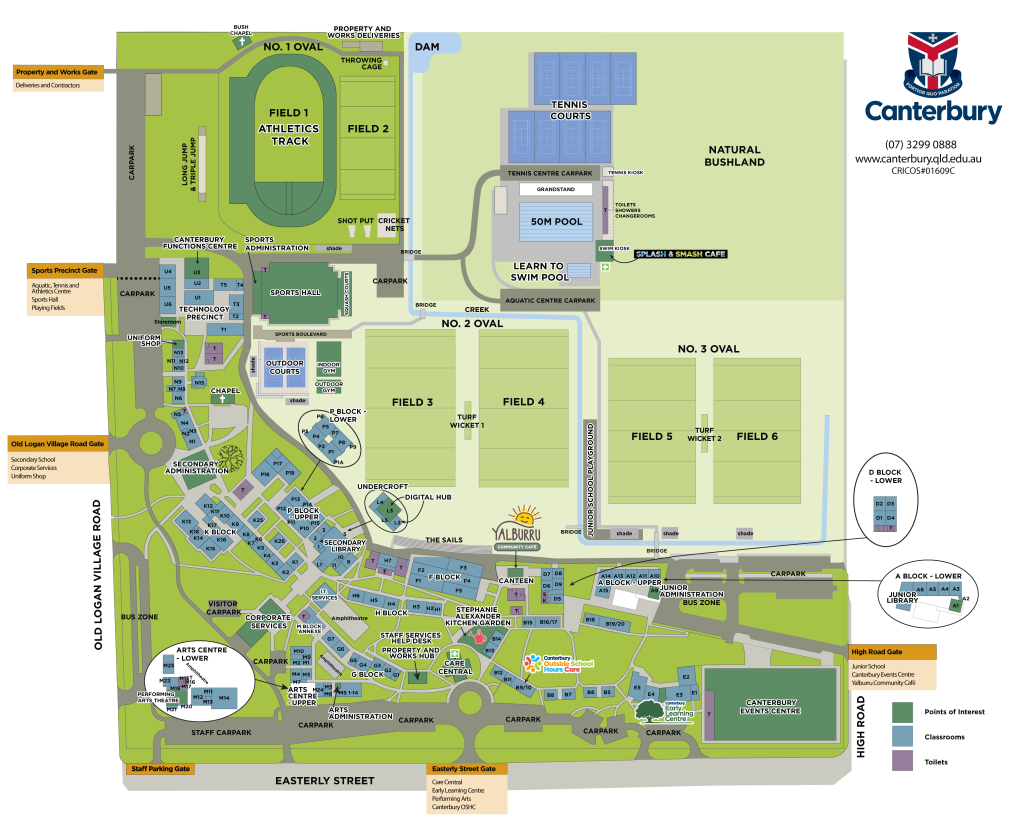 2. The Border Artwork – This spider's web of numerous connecting lines and nodes along all four sides and corners, represents the huge diversity of families who have travelled here via different means and routes, from right around the world, Australia and Queensland, to settle in Logan and join us at Canterbury College.
All these pathways connect and interconnect – highlighting our bonds, our unity and shared goal of creating brighter and stronger students for tomorrow.
3. The Yarning Circle – This central image represents the parents, carers, staff and community all coming together to support our children's education, wellbeing and futures as one powerful adult collective.
Joining this core element is the network of illustrated roots that honour our sadly departed historic giant fig tree, which died in 2022 after months of valiant efforts to save it.
Deeper again at the very heart of the Yarning Circle lies the Anglican Cross – which also appears on our College Crest, symbolising the faith and traditions upon which Canterbury College was built.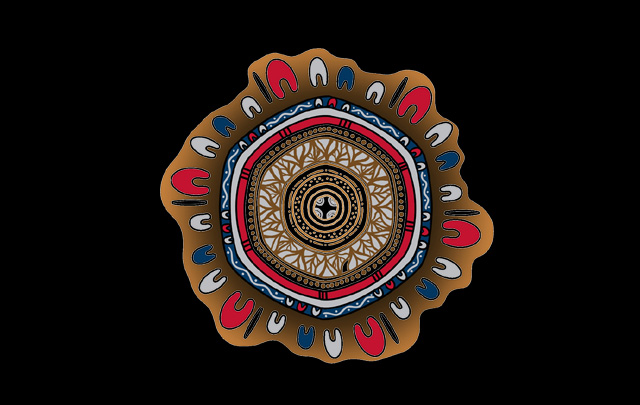 4. The Four Pillars – Our major student offerings of Academics, Sport, The Arts, and Service and Leadership are displayed by those four stylised pillars, strategically reinforcing that strong blue circle which enfolds and unites all our many different family groups.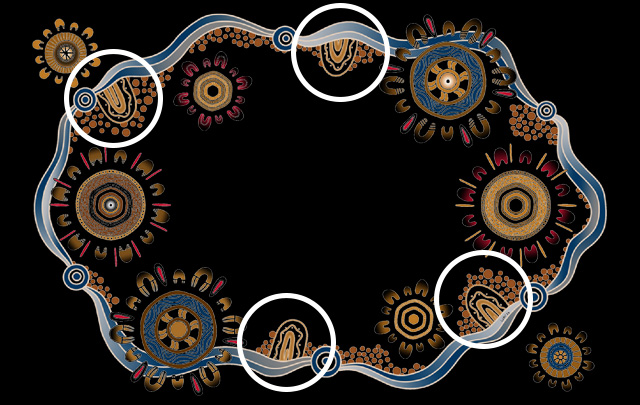 5. The Remaining Elements – These bright 'hubs' symbolise the rich diversity of the 80-90 cultures co-existing here on campus, in an open and inclusive educational environment, where children and families from all different cultures and backgrounds can call 'home'.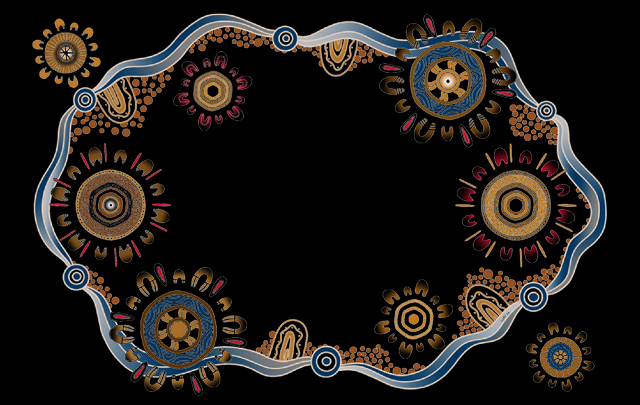 So we are delighted to share the attached video explaining our very first Canterbury College indigenous artwork in full, in the words of the artist herself Waylene Currie.
And we take this opportunity to especially thank Waylene for the brilliant job she has done exploring our campus and history; getting a feel for our people, pupils and passions; and summarising it all together in one beautiful artwork.
Bullang Mobo is testament to the deep connection between our school, the land, and its people, reflecting the spirit of unity and strength that permeates Canterbury College.
Expect to see this artwork proudly broadcast on future digital communications, printed publications, Canterbury clothing and College gifts.
This is another way that Canterbury pays its respects to this land's ancestors and descendants, who continue cultural and spiritual connections to Country.