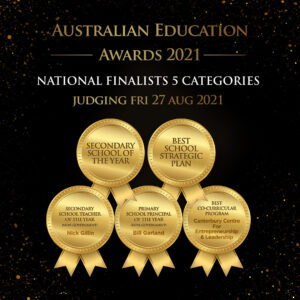 Canterbury Blasts Into Awards Contention
Canterbury College is thrilled to announce it has been nominated as national finalists in an unprecedented five categories of the 2021 Australian Education Awards.
Canterbury has been nominated amongst the country's 9,542 schools for:
Secondary School of the Year
Primary School Principal of the Year (Non-Government) – Bill Garland
Secondary School Teacher of the Year (Non-Government) – Nick Gillin
Best Co-Curricular Program – Canterbury Centre for Entrepreneurship & Leadership
Best School Strategic Plan
This Australian Education Awards in Sydney will bring together school principals, department heads and industry leaders to celebrate excellence in K-12 education.
The event recognises leading schools, principals, department heads and teachers for their contribution to the industry over the past 12 months – especially in the changed environment and challenges brought on by COVID-19.
Canterbury Principal Mr Dan Walker was extremely proud when the list of category finalists was released today ahead of final judging in late August.
"This major recognition, across all areas of the College's programs, is only possible due to the ongoing efforts of all of Canterbury's teaching and corporate services staff," Mr Walker said.
"Congratulations in particular to Nick Gillin and Bill Garland for their individual recognition, with Nick's passion for Science and Maths teaching evident to us every day, and Bill's outstanding leadership of one of Australia's fastest growing junior schools."
"If you are a Canterbury parent, you can be further reassured that your child or children are in some of the best educational hands in Australia as judged by The Educator industry body. If you are not a Canterbury parent, get in touch, come check us out."
"We knew we had one of the best, biggest and most diverse Co-Curricular Programs in Queensland, if not Australia, but also being in the running as having the Best School Strategic Plan, shows that Canterbury's future is only getting better."
Winning Secondary School of the Year would serve as an enormous milestone as Canterbury strives to become one of Australia's leading private ELC-12 colleges servicing the fast-growing southern Brisbane and northern Gold Coast catchments.
You can read the full list of 2021 finalists in each category at – www.educatorawards.com
Winners will be announced at the gala awards dinner on Friday 27 August 2021 in Sydney.
Please wish us good luck!