2022 Canterbury Junior School Musical: Disney's The Lion King Jr – 2pm & 6pm, Saturday 15 October @ Logan Entertainment Centre – TICKETS ON SALE NOW!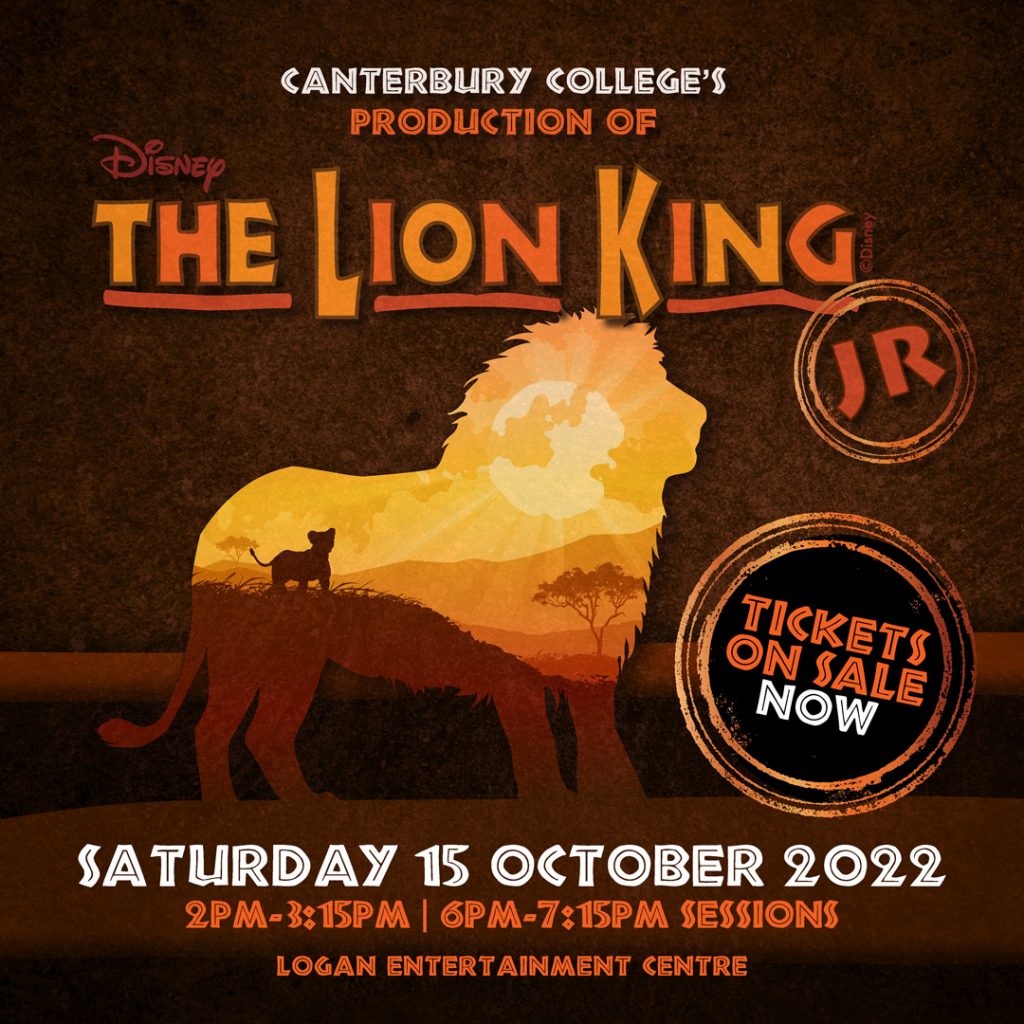 What: 2022 Canterbury Junior School Musical – Disney's The Lion King Junior!
When: 2:00pm Session + 6:00pm Session, Saturday 15 October 2022.
Each session length: 1 hour 15 minutes (approx).
Where: Logan Entertainment Centre – 170 Wembley Road, Logan Central.
Who: For ALL College Students, Parents, Carers & Families.
Canterbury Staff: Please email  with the number of tickets you require AND which session/s.
Hosts: Canterbury College Junior School.
Cast: Our Years 4 – 6 Students.
Ticket Costs: Adult – $16 | Child – $8 | Concession – $8.
**Logan Entertainment Centre Ticket Office: BOOKING WEBLINK HERE.**
HURRY – Tickets selling fast! | More seats being released from THIS Monday 19 September 2022.
Contact Details: For more information, please contact Canterbury's Director of Music Dr Katrina Peddell – 
Waterford's Canterbury College Junior School brings the African savannah to life here in Logan, with Simba, Mufasa, Scar, Rafiki and an unforgettable cast of characters, as they journey from Pride Rock to the jungle… and back again, in this inspiring, coming-of-age classic Disney tale.
Characters – Major Roles
Rafiki – a mysterious but wise mandrill.
Mufasa – King of the Pridelands.
Scar – Mufasa's jealous brother.
Zazu – a hornbill and Mufasa's loyal yet fretful attendant.
Simba (Young) – a curious eager lion.
Simba – grows up to be King.
Nala (Young) – an energetic and brave lioness.
Nala – Simba's best friend.
Timon – a sarcastic but outgoing meerkat.
Pumbaa – a gentle and kind-hearted warthog.
Characters – Minor Roles
Sarabi – lioness, Queen of the Pridelands, Simba's mother.
Sarafina – lioness, Nala's mother.
Banzai, Shenzi, Ed – scruffy, tough and dim-witted hyenas who serve Scar.
Ensemble – Lionesses | Hyenas | Various Pridelands animals including wildebeest.
Disney The Lion King Junior School Musical Copyright Licence Warning
Our two performances of Disney The Lion King Jr (Primary School) are licensed exclusively by Music Theatre International (Australasia).
All performance materials supplied by Hal Leonard Australia.
Due to licensing restrictions, it is strictly forbidden for audience members to make any form of recording of this production.