2021 Junior School Leadership Assembly – Photo Gallery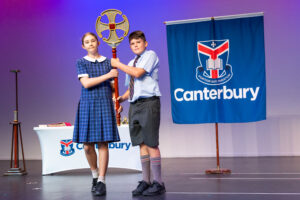 Thank you to our 2021 Junior School Captains for their service and contributions to the Canterbury community throughout the past year. 🙏
Our 2022 Junior School Captains are:
2022 Junior School Captains: Ava Heath and Banjo Newton
2022 Junior School Vice Captains: Arabella Carr and Finn Watt
2022 Junior School House Captains:
Becket House 🦁: Austin Dyer (Competition) and Charlotte Bull (Community)
Cranmer House 🐺: Logan Eastwood (Competition) and Lyla Ries (Community)
Goldsworthy House 🦅: Mason White (Competition) and Mujtaba Shah (Community)
Kime House 🐯: Alec Wylie (Competition) and Lillian Pollock (Community)
Ramsey House 🦖: Grace McIntyre (Competition) and Amara Caeiro (Community)
Temple House 🐎: Sienna Crawford (Competition) and Sarah Dunn (Community)
Congratulations to our 2022 Junior School Captains! 👏
23 students were also nominated to be Bridge Builders Mediators through our Bridge Builders Mediators Program.
These students will participate in a two-day training program next year, and those who successfully complete their training will begin their mediator duties – offering assistance and support to our younger students in the playground.
The full Facebook photo gallery can be found at THIS link.