2021 City Of Logan Sports Awards: Results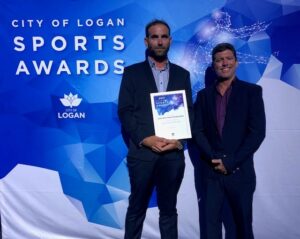 Congratulations to all the very worthy winners at Saturday night's City Of Logan Sports Awards.
Unfortunately we didn't take out our two categories, but looking forward to a bigger and better 2022!
: Our Aquatic & Tennis Centre Manager Mr James Rapkins and Tennis Coach Drew Parker with their nomination certificate.
Our two nominations were for:
YOUNG ATHLETE WITH A DISABILITY – Rhylee Jackson (Year 9).
Rhylee Jackson is an excellent tennis player who has been profoundly deaf his whole life.
While competing very well in mainstream competition, Rhylee has excelled in the past 12 months at a National level in the Deaf & Hard Of Hearing (DHOH) competitions.
Thanks to Matt Bourne and Drew Parker for doing such a great job with squads and individual lessons, and we look forward to supporting Rhylee into the future.
SPORTS EVENT OF THE YEAR – Canterbury Taipans Inaugural Junior Girls Tennis Championships 2021.
In July 2021, the Canterbury Taipans hosted the first ever 'ALL GIRL' National Point Junior Event.
It was ground-breaking, inspiring and brilliantly delivered thanks to the teams in marketing, facilities and tennis.
The event drew some amazing feedback and has sparked the plans for a 'Girls Only' circuit adopted by Tennis Queensland, to increase the participation of women in sport and particularly, to rescue the dropout rate in female teenage tennis players.