2021 Canterbury Fine Tunes, Moves & Foods Festival COVID CANCELLATION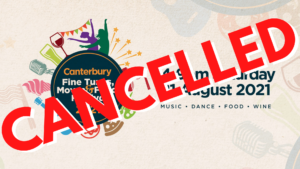 Dear Canterbury Families & Students,
After meeting with our College Executive Group online, it is with much disappointment that I must announce the official COVID cancellation of our Saturday 21 August Arts, Food and Wine Festival for this year.
We will try again next year in 2022, as Term 4 is simply too busy with existing assessments, events and graduations, to squeeze in a major event of this scale, when this possibility was discussed.
Our decision was not taken lightly, but ongoing COVID lockdown length uncertainty only makes this conversation harder and more stressful, as late cancellation penalty fees rise with the many event suppliers, and our students and their families need certainty around school scheduling.
Our final cancellation reasons are:
Ongoing lockdown uncertainty causes people to lose interest in major events.
Even if the current lockdown finishes before Saturday 21 August, strict crowd limits below 50, 100 or 200 people will almost certainly remain – effectively killing any sized festival event.
Many of our Canterbury parents may well be experiencing serious job and financial security issues privately at home, caused by this current lockdown, so cannot really afford a family night out.
Our main concert's student dance, song and music group performers are unable to rehearse together during this entire lead-up lockdown, making delivery of a professional performance onstage impossible.
Our amusement providers, food truck operators, beverage suppliers, performance stage staff, caterers, cleaners, security staff etc all need certainty and cancellation fees only grow as the event date draws nearer, so better to be decisive now rather than lose tens of thousands of dollars later.
And finally, it will be growingly difficult – if not plainly negligent, to actively encourage over 3,000 people to all amass at one location together, with genuine COVID delta strain 'super spreader' event fears in our Logan and Brisbane communities.
Therefore, all attractions access wristbands purchased via Humanitix will be fully refunded in due course and our Facebook event post will be cancelled.
Let's hope for much better luck next year and a permanent end to this ongoing COVID pandemic soon.
And as always – stay safe and stay strong… Canterbury is providing all the education and student support we can to keep school life as 'normal' as possible.
Yours faithfully,
Mr Dan Walker
Principal